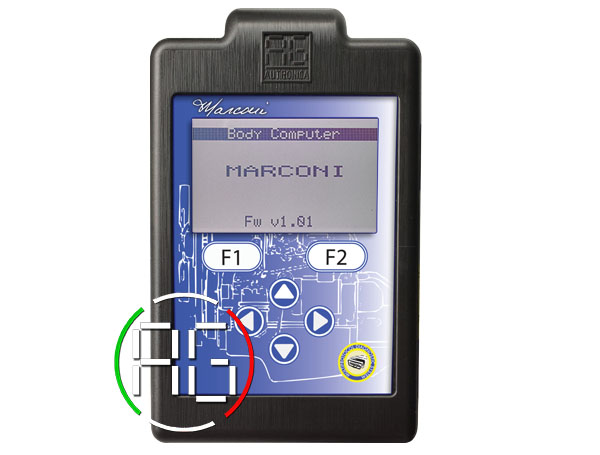 Marconi Proxi
Configuration
Alignment
Change
Vehicle setup
LOW COSTS
Ideal solution for private or  low budget customers.
STANDALONE
It is used without additional PCs and / or appliances.
LAPTOP
The small size enhances the convenience of transport
CUSTOMIZABLE FUNCTIONS
Customizable features at customer's request.

The low cost solution for the repairer. Marconi proxi Giovanni Accinni srl configures the most advanced procedures Fiat Alfa Lancia Ford KA

CHANGE THE CAR LAYOUT

The enthusiasm to get involved always
proposing tools capable of producing turnover.
The desire to confront
us once again a revolutionary product absent in the auto repair industry.
Your independence
simple tools in use and with real demands from the automotive market.

Handheld tool of simple use, intuitive, even for the less experienced user.
To make, the variation of the car setup (configuration Proxi), has never been so simple. Once again there is the enthusiasm to get involved.
Marconi Proxi allows you to perform quickly and safely the variations of any optional on board, on the cars of the brands mentioned below.
The purpose is to perform some changes of equipment without causing any alteration that could create anomalies in the car, in order to use the original options (parking sensors, outdoor temperature sensor, navigation, etc.) making them recognize and accept the vehicle.
Obviously in addition to adding accessories there is also the possibility of removing them, a case could be the removal of TPMS tire pressure sensors or the variation of the front headlamps from Xenon lights with traditional halogen lights, etc..
Very important not to underestimate the potential that make this product unique: the manufacturers allow today, only the alignment of the new configuration is not allowed, therefore, the modification or the addition of other devices.
All this makes MARCONI unique, irreplaceable and necessary for your independence.
For more information please contact us at the following addresses: commerciale@accinni.com 011-3140709

FIAT –

Bravo >2007
500 >2007
500 L >2012
Croma >2005
Doblò >2000
Doblò MY >2003
Doblò >2009
Ducato >2006
Ducato rst >2001
Fiorino >2008
Idea >2004
Palio Restyle
Palio Restyle 2
Panda >2003
Panda >2006
Panda (New) >2012
Punto >1999
Punto >2003
Punto MY >2003
Punto >2005
Punto EVO >2009
Stilo >2001
Stilo NF >2001
– ALFA –

147 >2000
159 >2005
Brera >2005
Giulietta >2010
Giulietta MY >2014
GT > 2004
Mi To >2008
Mi To>2013
– PEUGEOT –
Bipper >2007
Boxer >2006
– LANCIA –

Delta >2008
Delta >Rst >2014
Musa >2004
Musa >2007
Thesis >2002
Ypsilon >2003
Ypsilon >2006
Ypsilon (nuova) >2001
– FORD –
KA >2008
– CITROEN –

Jumper >2006
Nemo >2008